Press release
PRESS RELEASE – MODERN FLIGHT TRACKING IS ON ITS WAY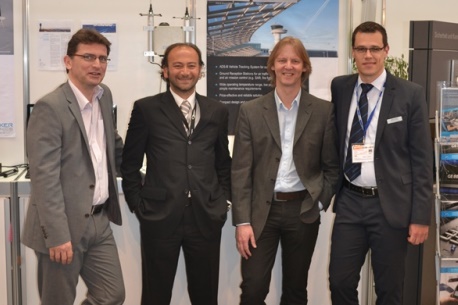 Becker Avionics GmbH and 42 Solutions B.V. have announced their cooperation to build the ATLASS system at the AERO2014 in Friedrichshafen. It is a cooperation based on a mutual appreciation of each other's strengths and competences.
Becker Avionics has been developing, producing and servicing Air Traffic Control equipment and ground communications systems worldwide for over 45 years. 42 Solutions is a well-known and established software provider for ATM and safety critical applications.
COST-EFFECTIVE FLIGHT TRACKING
ATLASS is a state-of-the-art stand-alone ADS-B traffic monitoring system that provides a recognized air and ground situation with a professional Human Machine Interface for various applications where mission-critical data are needed, at limited costs and with reduced numbers of system components.
ATLASS SENSOR
The BAR6216 sensor unit is able to receive ADS-B messages from properly equipped air and ground participants and generates a time-labeled report for each received message. The unit is supplied with Power over Ethernet (PoE) technology which requires only a single cable for power supply and data transfer. Spatially distributed receivers can be combined to extend coverage.
ATLASS HMI
Data provided by the receiver is processed by the Human Machine Interface. The open architecture of the software allows for correlation with other possible data (e.g. METAR, flight plan data). This provides you with a complete, integrated and cost-effective system for immediate operation.
ATLASS Display
ATLASS Display
AREAS OF APPLICATION
ATLASS offers a Basic Situational Awareness, which will be useful in different possible application areas. Airports and airliners can use it for their operations supervision including surface movement awareness. It offers support for search and rescue mission management and security/border control to defence, law enforcement and emergency organisations.
Share on Facebook
Share on Twitter